SEO Terms Used in this article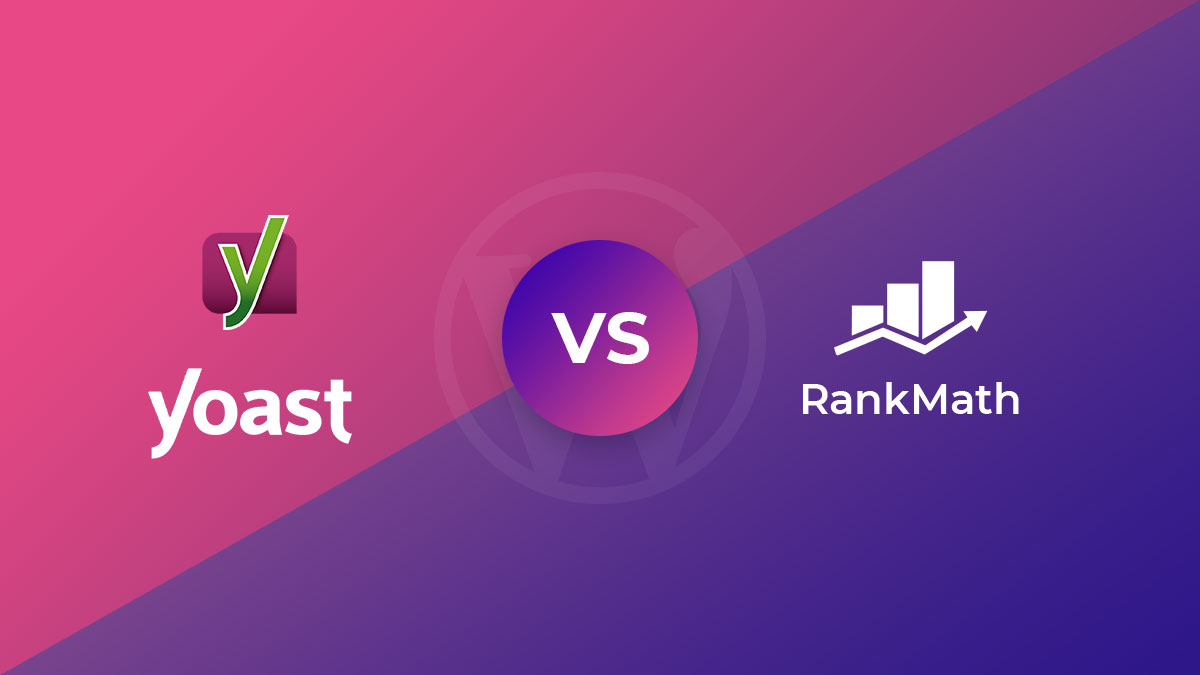 Yoast SEO VS RANKMATH SEO
If you own a blog chances are you've been recommended the Yoast plugin at least once through the entire process. And it makes complete sense the Plugin has over 5 million installations. You might be wondering now, if it has that much popularity, why not just go for that option? Surely 5 million users aren't wrong. And while that's entirely true, rank math is a plugin that offers its users more features than Yoast and is often known as the #1 alternative for Yoast. Let's put both these plugins in the ring and find out which one wins the title of "The WordPress plugin you need to get your blog higher-ranked".
WHY YOU NEED AN SEO PLUGIN
When you write a blog all to want is to be able to share it with as many people as possible; get all the traffic directed towards your content and what is the most organic way to generate that traffic? By Google ranks, of course. Google uses different algorithms to rank these blogs, and there are many tactics you can employ to get higher up in these ranks. Fortunately for you, WordPress plugins like Yoast and Rank Math exist. They help you optimize your content by going through it and highlighting the problem areas then show you how to improve your On Page SEO. 
With so many choices in WordPress, deciding the best Plugin can become a real hassle. That is why we will compare both of the top SEO plugins so you can make the best choice possible.
Installation and setup process
Don't get me wrong; neither of the SEO plugins have an annoying and hard to understand the installation process. However, one is just a tad bit easier than the other. The Yoast plugin has a simple installation with an eight setup wizard and while you might have to enter basic information such as your organization name, authors option and title setting it does include a video tutorial to make it easy to understand if you are just starting out and have no clue what to do.
The RankMath plugin doesn't come in behind Yoast either. It has an even simpler 5 step setup wizard and allows for more features and customization like search console details, sitemap configuration and even more advanced optimization. So what you choose here really comes down to a matter of preference. I suggest the Yoast plugin simply because it comes with a tutorial so you can't go wrong there.
User interface(UI)
The UI is another factor that holds a lot of importance. What is the first thing you notice when you look at a plugin? The aesthetics most certainly. You want it to be clean and simple with everything categorized in a way that it is easy to locate, and Yoast plugin does just that. There is one negative; though, many people often complain that the Yoast plugin often seems boring and dull. Why should any user want to choose between aesthetics and performance when RankMath gives you both. It has a clean, modern design while giving the same features if not better to help you with your SEO needs. It also provides simple enable/ disable options as well making it really easy to understand if you are a beginner and don't know the mechanics of everything yet.
Keyword assigning
Keyword is perhaps the most important thing in your content, and keyword optimization needs to be done perfectly so you can get more organic traffic towards your website.
For keyword optimization, there is a clear winner. Yoast previously set the bar high. It allows you to have one keyword in the free version and gives suggestions based on that. The suggestions are given in 3 colours green, orange and red based on the readability score. As satisfying as it might be to see those lights green, Rank Math has taken over and crushed Yoast in keyword optimization. It allows its users to have up to 5 keywords optimized in the free version, which is reason enough for it to be better but it also gives its suggestions instantly as soon as you add the keyword and gives a readability score from 1-100 which is much easier to gauge than going at something blind till it turns green. Thus RankMath is able to take the cake on this one and if keywords are the only aspect that matters to you, going towards RankMath is the clear choice.
YOAST SEO Keyword scoring
Redirect manager
Imagine this; you are browsing through a blog looking at the top 10 brownie recipes, you find one that you like and open it to find the 404- page not found error. Broken links and error pages cause many bounces off the website. To improve this, you have the redirect manager that relink the moved page to its new address without compromising your SEO. Now both Yoast and RankMath have equally strong Redirect managers, almost identical in the functions they perform but what makes RankMath win this round is that its redirect manager is free while you only get this feature in the premium version of Yoast. Who wouldn't love the free option when it's virtually the same feature.
Speed
It's a small advantage RankMath has over Yoast, barely noticeable but it can really improve your efficiency in the long run. The Yoast plugin is about 1.5 times heavier than that of RankMath; thus, it can lead to performance issues. While it doesn't matter to most people, but as a blogger with hundreds and thousands of blogs being posted every minute, each second you can spare can give you a competitive edge.